Tramaco: Expandable Microspheres for TPE/TPU and Silicone Rubber
2020-11-19 [Source:PUdaily]
The Pinneberg-based German company Tramaco GmbH announced the launch of new expandable microspheres. According to the manufacturer, some materials, e.g. TPE/TPU, cannot be processed by chemical or physical foaming due to their low melt strength. In these cases the new product can offer an adequate solution.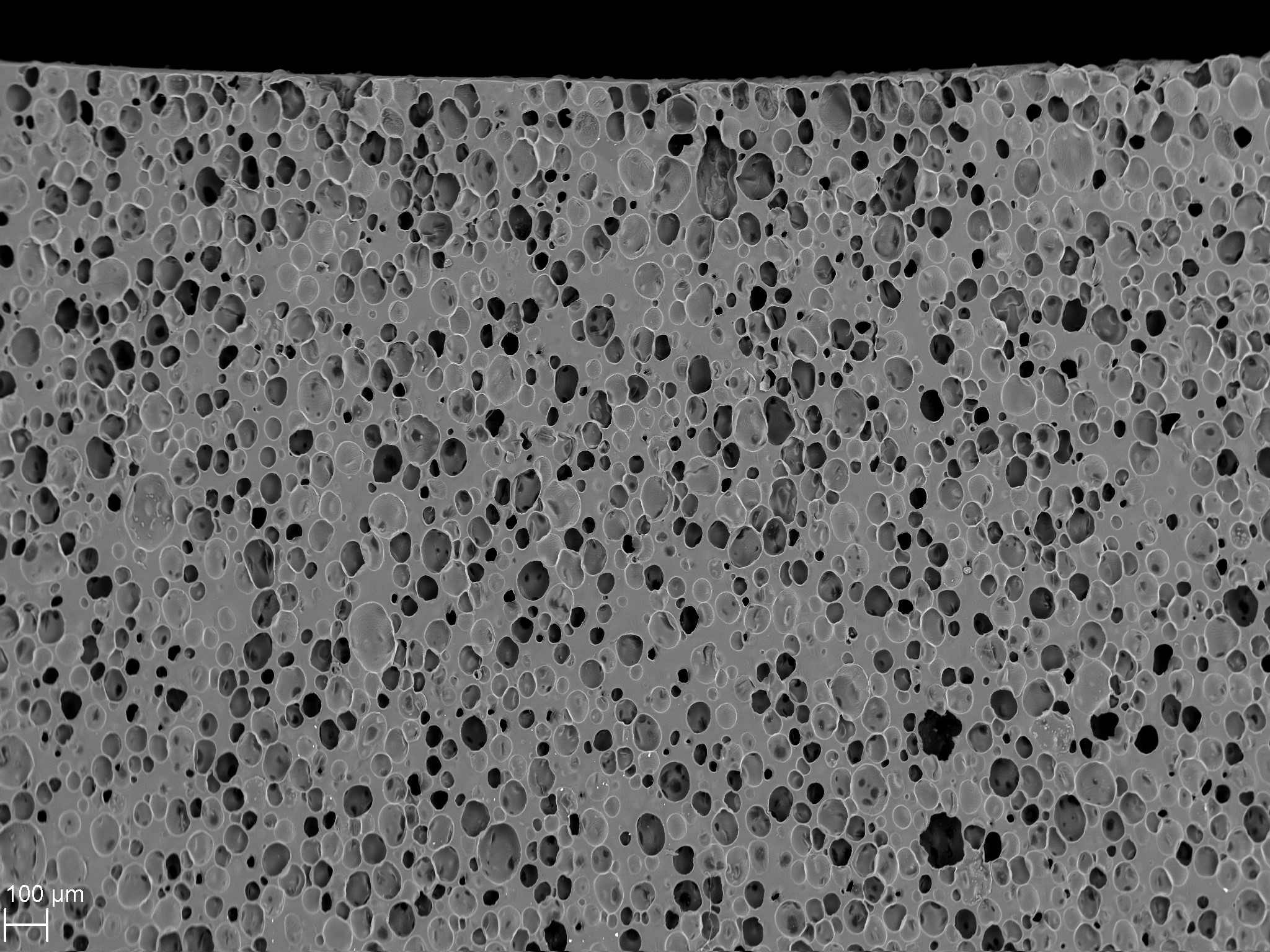 Tramaco's microspheres enable the production of very low densities and highly homogeneous closed cell foam structures. (Source: Tramaco)
The microspheres are filled with a physical foaming agent which is encapsulated in a polymeric shell and strongly expands under the influence of heat while keeping the increased volume during cooling. There are diverse fields of application, e.g. TPU-shoe soles, coatings, underbody coatings (UBC), wall coverings, insulation materials and silicone rubber (LSR and HTV). By using the microspheres, very low densities and highly homogeneous, closed cell foam structures can be produced. Tramaco offers a wide range of expandable microspheres as powder (e.g. for plastisols) and polymer-bound masterbatches in granulated form (e.g. for injection moulding applications).

The company said that in some applications an optimal result can be reached by combining microspheres and conventional chemical foaming agents. Appropriate Tracel types are available for such applications.

Already pre-expanded microspheres are brand-new in Tramaco's portfolio. By application of these ultra-light fillers, with densities below 30 kg/m³, cell structures can also be created in materials which do not allow expandable microspheres or conventional chemical foaming agents in their processing operations, e.g. paints, lacquers, coatings or thermosets.

Tramaco is a producer of chemical foaming agents, primers and additives for the plastic, rubber and coatings industry. Since its foundation in 1973 the company has built up a global distribution and sales network. The extensive product range comprises established brands like Tracel, Trapur, Trapylen, basic raw materials and customised products for applications in various industrial sectors.
Copyright Statement: 2005-2020 Suntower Consulting Limited. All Rights Reserved. The material including but not limited to text, photo, multimedia information, etc on this site may not be reproduced, modified or used in any form without the original author or copyright holder's permission. PUdaily is a member of Suntower Consulting Limited.
Any questions please contact at email: lotus@pudaily.com; Tel: 0086-21-61250986
Disclaimer: This information published in this website is only for reference and no responsibilities or liabilities will be accepted by PUdaily for commercial decisions claimed to have been based on information.