PO Price Reaches a Five-year High!
2020-09-11 [Source:PUdaily]
PUdaily, Shanghai-- On September 10, the offer for PO in Shandong market stands at RMB 14,600-14,800/ton, and that in East China market is RMB 14,800-14,900/ton, the highest offers since 2016. PO price soared in 2016 because PO supply became tight as a result of the environmental inspection of plants using chlorohydrination process by Shandong Environmental Protection Department in September and PO demand became strong amid the September-to-October peak season. Also, there are two reasons for this year's spike in price. First, due to the COVID-19 pandemic, in the first and second quarters PO manufacturers lowered their production loads, leaving them standing at 53% to 55%. Consequently, PO price rose continuously. Later, the manufacturers raised their production loads. Despite that the level of their inventories was still low, according to market sources. Second, from June to July PO imports declined due to overseas plants' maintenance or lower production loads. In August, PO imports still didn't increase significantly, and downstream manufacturers in East China purchased goods from Shandong suppliers. Their low inventory levels and limited imports enabled the manufacturers to ask higher prices.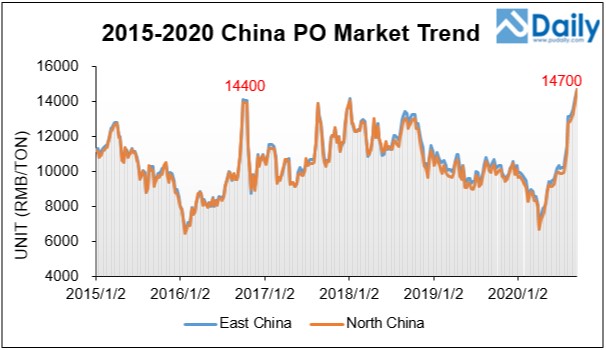 Source: PUdaily
On September 10, the offer for PO in Shandong reached 14,600-14,800 RMB/ton EXW in cash, up RMB 7,800/ton, or 121%, from the lowest level of RMB 6,650/ton in the year.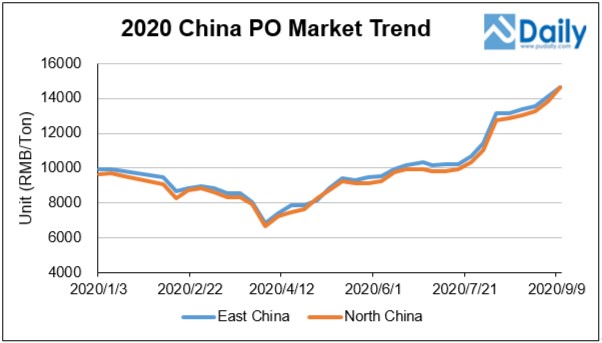 Source: PUdaily
In mid-August, there was a "tentative slight rise" in PO price following a sharp rise. At the time, market participants expected an inflection point. However, against the expectation the price continued to rise. In August, manufacturers in Shandong and East China together raised their offers. Downstream manufacturers in East China replenished inventories by purchasing goods from other regions. In early September, a plant owned by Shandong Daze Chemical resumed normal operation, and a unit owned by Zhonghai Fine Chemical was restarted. The overall operation of PO plants in Shandong was stable. At present, with smooth shipments, PO manufacturers are receiving orders steadily.
It is learned that currently PO manufacturers have limited inventories, and only a small volume of PO imports reaches the port. When it comes to polyether polyols, a major consumer of PO, downstream manufacturers' strong demand during the peak season result in rising price for the product, though the manufacturers are resistant to high price. It is heard that overseas producers SKC and Shell Singapore will perform maintenance in September and October, which may have an effect on domestic PO market. At present, the offer for PO has been rising for ten consecutive weeks. And there are mixed news in the market. We suggest prudent decision to buy and sell to avoid risks. Attention should be paid to changes in demand to determine the inflection point.
Copyright Statement: 2005-2020 Suntower Consulting Limited. All Rights Reserved. The material including but not limited to text, photo, multimedia information, etc on this site may not be reproduced, modified or used in any form without the original author or copyright holder's permission. PUdaily is a member of Suntower Consulting Limited.
Any questions please contact at email: Lucy.tang@pudaily.com; Tel: 021-61250980
Disclaimer: This information published in this website is only for reference and no responsibilities or liabilities will be accepted by PUdaily for commercial decisions claimed to have been based on information.