China's PO Market Consolidates at High Level in July
2020-08-03 [Source:PUdaily]
Up to now, the domestic PO market is consolidating at high level. Dealers' shipments are smooth, and their inventory levels are low. Buyers make purchase only to meet their rigid demands. Offer for Shandong- and North China-originated goods stands at RMB 10,800-10,900/ton. The East China market is under consolidation. Offer for East China-originated goods stands at RMB 11,100-11,200/ton, with offer for confirmed orders negotiable.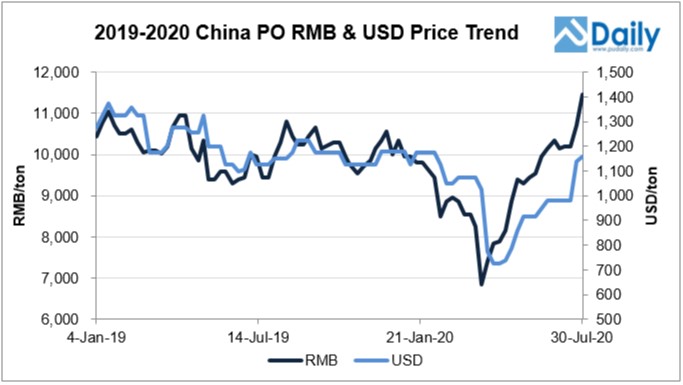 In July, the domestic PO price fluctuated at low level at the beginning of the month, and rose continuously in the last two weeks. At the beginning of the month, PO manufacturers raised their operating rates. As orders from polyols manufacturers continued to increase due to their needs to replenish inventories, traders saw their inventory levels decrease. Later, the low inventories of downstream manufacturers contributed to the surge in PO price.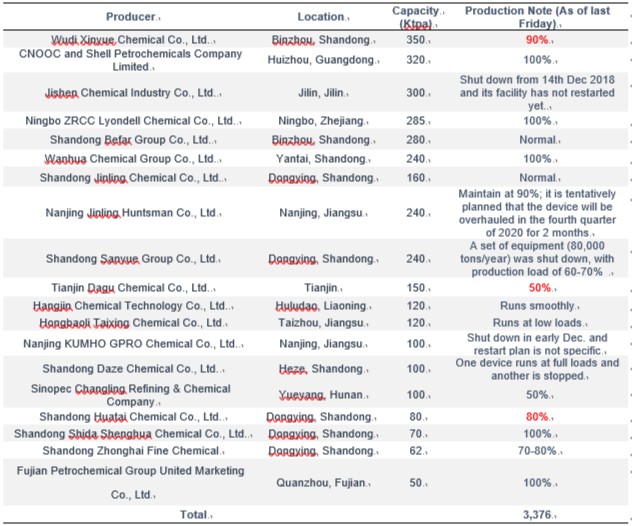 At the end of the month, the PO market was supported by multiple favourable factors. Owing to the low inventories of PO manufacturers in Shandong, at the beginning of this week the Shandong market rallied, and the East China market followed suit. Supported by the high costs and smooth shipments, PO manufacturers continued to increase their offers. Certain high-end polyether polyols were in short supply as some manufacturers suspended production for maintenance. Whereas there were also some large manufacturers receiving stable orders and they continued to increase offers, which resulted in a strong market.
It is expected that the uptrend in PO price will become weak. This week, support from raw material cost remains. On the supply side, although the operating rates of PO plants are relatively high, the manufacturers are under limited inventory pressure. At the end of the month, some imports also entered the East China market. In the last week of the month, the PO market is expected to continue to rise. Although the supply of some grades of polyether polyols becomes tight, downstream users are resistant to the high prices. As demand weakens, the constraints on PO supply are alleviated and transactions have become stable. Close attention should be paid to PO imports, new orders from downstream manufacturers and the progress in manufacturers' replenishment of inventories.
Copyright Statement: 2005-2020 Suntower Consulting Limited. All Rights Reserved. The material including but not limited to text, photo, multimedia information, etc on this site may not be reproduced, modified or used in any form without the original author or copyright holder's permission. PUdaily is a member of Suntower Consulting Limited.
Any questions please contact at email: Lucy.tang@pudaily.com; Tel: 021-61250980
Disclaimer: This information published in this website is only for reference and no responsibilities or liabilities will be accepted by PUdaily for commercial decisions claimed to have been based on information.