Ad-Vance Engineering Completes £1m Round of Investment
2019-12-02 [Source:prw.com]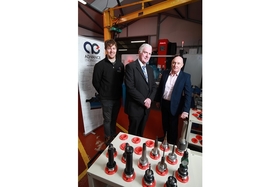 Ad-Vance Engineering has completed a £1m round of investment across its business. The cash injection supported construction of a new manufacturing facility and expansion of its manufacturing team.

The investment was made to support new export orders received by the company, which is based in Lisburn, Northern Ireland.

Ad-Vance specialises in the design, manufacture and refurbishment of injection moulding tools for the plastics industry.

Having started by supplying the construction sector, R&D investment has seen this extended to the automotive and medical industries.

The company reports that it has increased sales and doubled its customer base since 2015. Looking at this another way, the company now works with 20% of the leading injection moulders across the UK.

Speaking about the company and the new investment, Roger Vance, founder and managing director, said: "By focusing our new business drive on the top tier injection moulders, we've recently won new contracts in the automotive, pharmaceutical and medical device sectors. This only consolidates our reputation as a premium supply chain partner."

In addition to R&D innovation, Ad-Vance offers internships for engineering graduates from Queen's University in Belfast, while also running apprenticeship programmes in conjunction with local FE colleges.
SOURCE:https://www.prw.com/news/ad-vance-engineering-completes-ps1m-round-investment
Reprinted statement: This article is reprinted from other website, which only represents the opinions of the author and it does not represent the stand of this website. Please notify if violating the original author's copyright and we will remove it immediately.