China's TDI Capacity Compound Growth Rate Reached 19.6% from 2000 to 2017
2019-01-17 [Source:PUdaily]
Toluene diisocyanate (TDI) is an important organic chemical raw material. TDI is mainly used in flexible foam, coating, adhesive and elastomer. The sector of slab polyols is the largest consumer of TDI, followed by the coating sector. The two sectors altogether account for nearly 90% of the total consumption. Flexible polyurethane foam is widely used in furniture and transportation. In addition, TDI is an important raw material for adhesives, sealants, nylon-6 crosslinking agents, polyurethane coatings and polyurethane elastomer intermediates.
TDI production technology is very complicated with high requirements for its facility. Only the multinational companies such as BASF, COVESTRO and DOW can have the intellectual property rights. Along with the development of Asian economy, TDI consumptions and capacities in Asia are gradually increasing. Asian has played more and more important role in the world with capacity continuously expanding during the past decades. TDI Suppliers in this region are concentrated in China, Japan and South Korea. Till 2018, China is already the largest market by both production and consumption and capacity for TDI in China region accounted for nearly 28% of global capacity. From 2000 to 2017, China's TDI capacity compound growth rate reached 19.6%.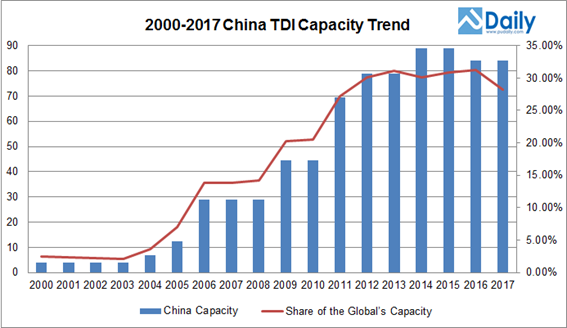 Before 2003, there were only two small sets facilities. Lacking of technology, we were still in the exploratory stage, with low outputs.
Since 2004, owing to the several facilities' operation and expansion, the domestic outputs began to increase substantially. From the capacity trends in these years, it can be seen that it has great changes for the capacity in China in 2006, 2009 and 2011, mainly because of the operation of the two world-class facilities of BASF (160,000 tons TDI facility of BASF in 2006) COVESTRO (250,000 tons TDI facility of COVESTRO in 2011), as well as several sets of home-made TDI facilities.
Before 2011, China needed to import TDI to make up for demand gap since domestic TDI capacity could not meet the demands in China. With the completion of newly-built TDI facility by Shanghai COVESTRO in 2011, domestic TDI supply increased a lot. In 2012, with the expanded capacities by Canghua and Juli in succession, the domestic TDI capacity basically kept balanced with corresponding demands and China began to export more and import less.
While in 2013, there is no expanded capacity in China. The TDI facility with a nameplate capacity of 100 kt/year of Southeast Electrochemical was put into production at the end of 2013 but it only keeps one 50 kt/year line running for most of the time in 2014.
Liaoning Jinghua TDI plant had been running only for 5 month off and on in 2015, followed by a shutdown in July with few chances to restart again. In September 2016, Liaoning Jinhua declares bankruptcy.
In 2016-2017, there is no new TDI production capacity in China and due to the shutdown of some foreign TDI plants, domestic and global TDI prices began to rebound in 2016-2017 due to the reduction of supply side.
In 2018, domestic TDI market experiences ups and downs, with price fluctuating considerably. At home and abroad, TDI production expansion and new construction have erupted centrally. For more details, please read our 2018 China's TDI Market Report!

Copyright Statement: 2005-2020 Suntower Consulting Limited. All Rights Reserved. The material including but not limited to text, photo, multimedia information, etc on this site may not be reproduced, modified or used in any form without the original author or copyright holder's permission. PUdaily is a member of Suntower Consulting Limited.
Any questions please contact at email: Lucy.tang@pudaily.com; Tel: 021-61250980
Disclaimer: This information published in this website is only for reference and no responsibilities or liabilities will be accepted by PUdaily for commercial decisions claimed to have been based on information.