SONGWON Industrial Group releases Q1/2018 Financial Results
2018-05-16 [Source:SONGWON]
Sales totaled 190,472 Mil. KRW in Q1
Net profit increased by 39% over Q1/2017 to 11,537 Mil. KRW
Gross profit amounted to 42,596 Mil. KRW
SONGWON Industrial Group (www.songwon.com) today released its audited financial results for the first quarter of 2018, ended March 31, 2018. Recording a positive start to the year, the Group achieved sales of 190,472 Mil. KRW, marking an increase in revenue of 8.9% when compared to sales in Q1 of the previous year (Mil. KRW 174,965). During Q1/2018, EBITDA and EBIT margins increased to 12.4% and to 8.1% respectively.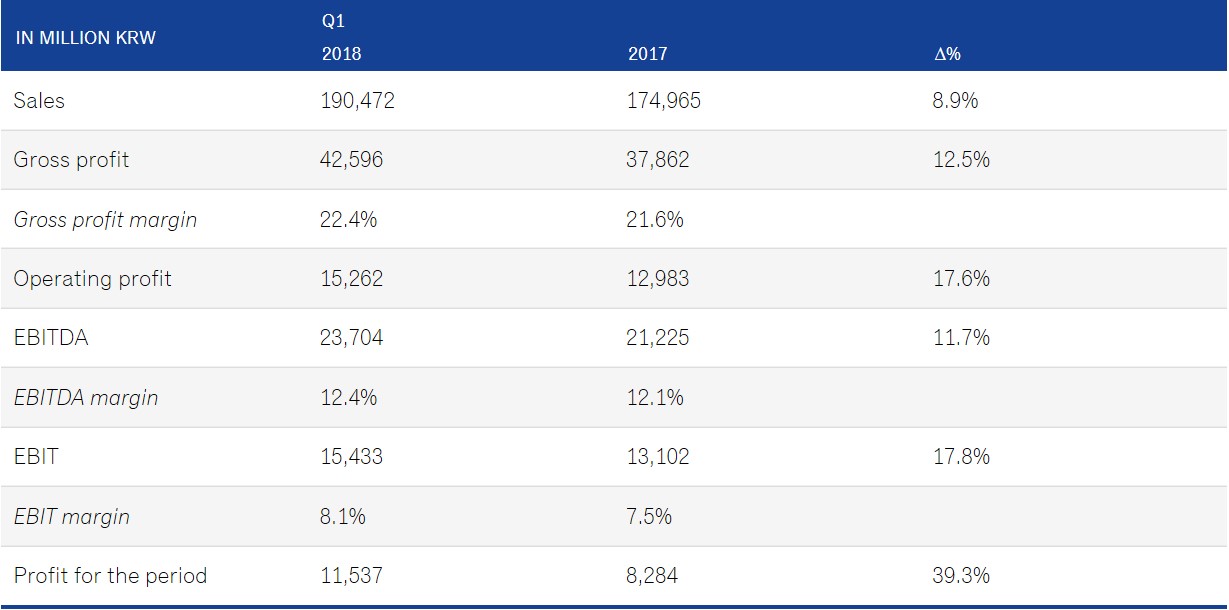 SONGWON's business performance throughout the quarter was in line with the organization's expectations, especially for its polymer stabilizers portfolio where demand remained strong across all regions. Volumes and revenues also continued to display growth at a rate above that of the estimated growth of the market.
The price increases implemented by SONGWON in the final quarter of 2017, are now becoming visible and effectively offsetting the increase in the cost of raw materials. The Group is keeping a close eye on the supply/demand situation for its key products.
During Q1/2018, the Group was affected by unfavorable exchange rate fluctuations mainly occurring from a weakening USD against KRW. Despite ongoing uncertainties relating to foreign exchange rates, political instabilities and unpredictable regional economic developments, the second and third quarters of each year have always been strong quarters and SONGWON foresees the general demand for its products across the portfolio to continue to grow steadily. To support further growth in the long term, SONGWON will continue to pursue its strategy and build on its strong global network, as well as the effectiveness of its supply chain.
Going forward, SONGWON will continue to remain cautious and exercise prudent capital management, but it is confident that the organization is ideally positioned to deliver best-in-class solutions to its global customers, and also well-prepared to capitalize on opportunities while improving its overall operating performance.
Reprinted statement: This article is reprinted from other website, which only represents the opinions of the author and it does not represent the stand of this website. Please notify if violating the original author's copyright and we will remove it immediately.